Research Equipment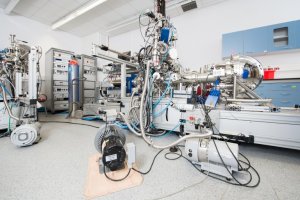 CNBCh UW is one of the best equipped research centers in Europe. Scientists can use over 500 research devices worth PLN 100 million here. Their purchase was possible thanks to co-financing of the CeNT III project from EU funds under the Operational Program "Innovative Economy".
The laboratories and measuring devices of the CNBCh  UW serve the university community, especially the employees of the Faculty of Biology and the Faculty of Chemistry. They are also used by researchers from other units of the University of Warsaw, e.g. Faculty of Geology, Faculty of History, Center for Forensic Sciences, Faculty of Law and Administration.
The Center also cooperates with partner scientific institutions, such as the Faculty of Chemistry of the Warsaw University of Technology. There are also well-equipped partner laboratories on the premises of the CNBCh UW. The research equipment allows you to perform analyzes necessary to conduct research in various scientific disciplines, as well as for the needs of enterprises from many industries.
The center is equipped with with many of the most modern types of analyzers, liquid and gas chromatographs, diffractometers, electron, optical and atomic force microscopes, spectrophotometers, spectrofluorimeters, spectrometers, molecular imaging systems, as well as a measurement set for fuel cell research, a set of hot chambers for conducting radiochemical syntheses, a set for surface analysis NAP XPS and many other devices.
We invite you to familiarize yourself with the list of available research equipment
Research equipment at the CNBCh UW –  download pdf version.
We invite you to cooperate!